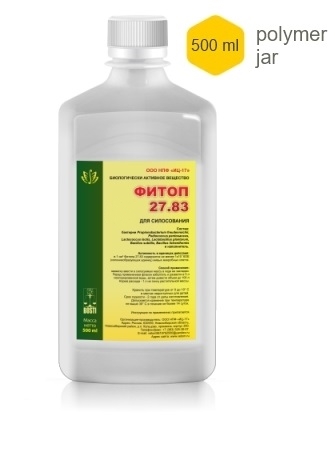 Dosage form:
 liquid.
Presentation:
 500 ml polymer jar.
Identification:
 Light brown to dark brown liquid with a specific ammonia odor. A light brown residue is allowed.
Composition:
Biomass of the following bacteria:
Propionobacterium freudenreichii
strain VKPM В-6561,
Pediococcus pentosaceus
strain VKPM В-8894,
Lactococcus lactis subps. lactis
strain VKPM В-3123,
Lactobacillus plantarum
strain VKPM В-2580,
Bacillus subtilis
strain DSM 32424,
Bacillus licheniformis
strain VKPM В-10561, and excipient.
1 ml of the active substance contains no less than 1x10
11
CFU (colony-forming units) of live bacteria of each strain of microorganisms.
Application:
Fitop 27.83 biological active substance is intended for silage making process.
Consumption rate of the working mixture with Fitop 27.83 to treat hay
| | | |
| --- | --- | --- |
| Qty of Fitop 27.83, ml | Qty of liquid for working mixture with 10 ml Fitop, liter | Consumption rate of the working solution for 1 ton of grass, liter |
| 500 | 100 | 1 |
First 500 ml of Fitop 27.83 is dissolved in 5 liter of non-chlorinated water, and then add necessary amount of water. The treatment is carried out by spraying.
Storage conditions:
 Store at temperatures of (0 - 10)ºС. Temporary storage at temperatures not above 30ºС within 14 days is permitted.
Keep the preparation out of the reach and sight of children.
Shelf life:
 2 years after the date of manufacture. Do not use after the expiry date.