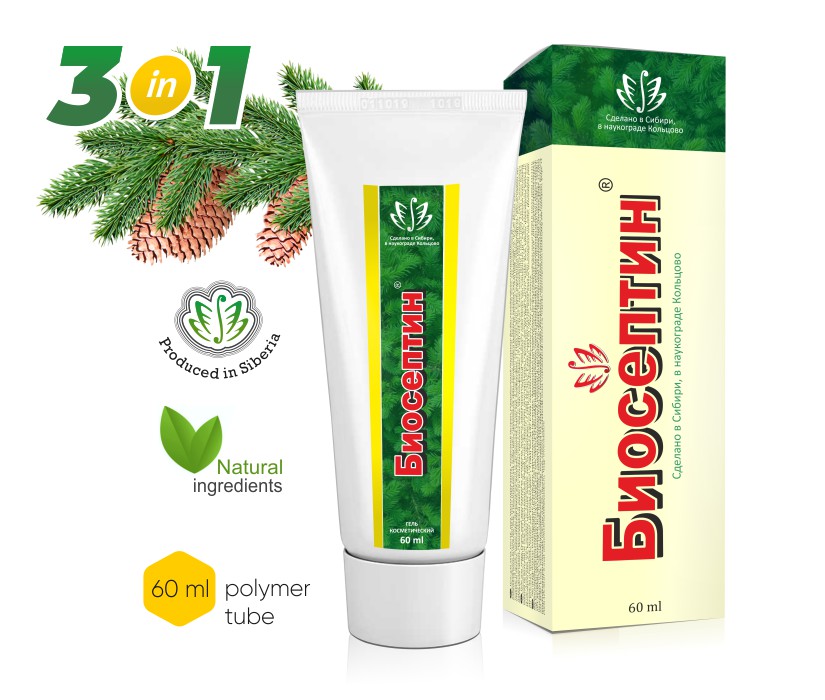 Dosage form:
 gel.
Presentation:
 60 ml in a polymeric tube.
Identification:
 jelly-like substance of light yellow to tan colour.
Composition:
 1 g of the gel contains aqua - 940 mcl, corn-steep extract fermented by bacteria
Bacillus amyloliquefaciens
strain VKPM B-10642 (DSM 24614) and strain VKPM B-10643 (DSM 24615) – 38.5 mg, agar - 20 mg, ethyl alcohol – 1 mcl, extract of Siberian fir – 0.5 mg.
Indications and Application:
 Cosmetic gel Bioseptin is used as an external remedy for skin care.
Biological active corn extract gives the skin a healthy appearance and effectively prevents forming sebaceous plugs. The gel increases the natural skin resistance to appearing and spreading acne nodules, prevents forming acne and promotes fast drying out and getting rid of existing pimples.
The gel is applied on the cleaned and dried skin with a thin layer not less than once or twice a day. There is no age restriction.
Contraindications:
 Hypersensitivity to the gel ingredients
Storage conditions:
 Store in a dry place at temperatures of (0-10)ºС and at relative humidity not exceeding 75%.
Transportation and temporary storage at temperatures from 10ºС up to 30ºС inclusive are permitted for 18 days.
Keep out of reach of children.
Shelf life:
 2 years after the date of manufacture.
✖