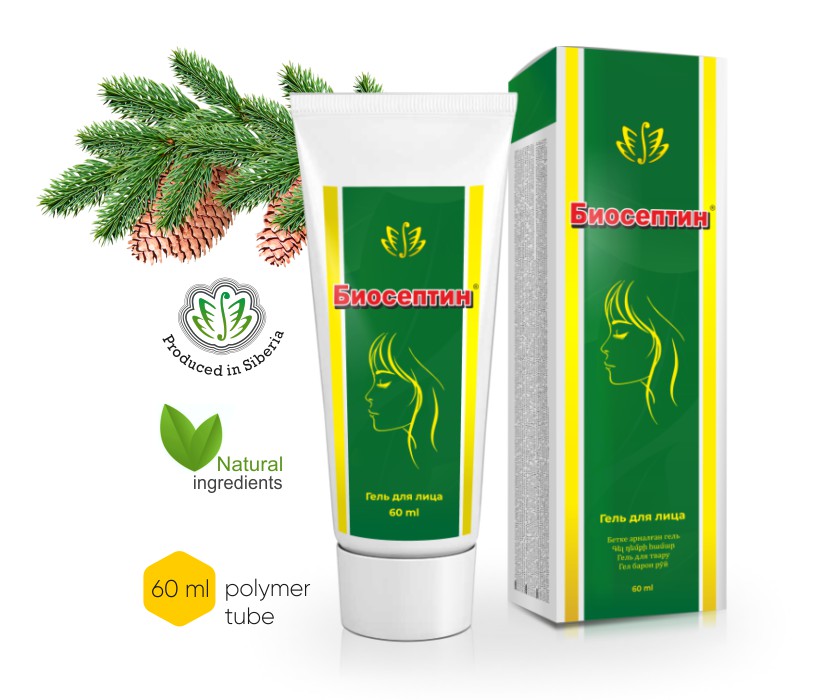 Dosage form:
 gel.
Presentation:
 60 ml in a polymeric tube.
Identification:
 jelly-like substance of light yellow to tan colour.
Composition:
 1 g of the gel contains aqua - 940 mcl, corn-steep extract fermented by bacteria
Bacillus amyloliquefaciens
strain VKPM B-10642 (DSM 24614) and strain VKPM B-10643 (DSM 24615) – 38.5 mg, agar - 20 mg, ethyl alcohol – 1 mcl, extract of Siberian fir – 0.5 mcl.
Indications and Application:
 Skin care gel for external use. There is no age restriction.
Bioseptin gives the following effects:
- makes the skin look healthy;
- effectively prevents forming sebaceous plugs;
- increases the natural skin resistance to acne nodule appearing;
- prevents forming acne.
Before applying the skin should be thoroughly cleaned with water or a mild skin cleanser, and dried. Gel is applied with a thin layer twice a day (morning and evening) and massaged gently into the skin.
Special precautions:
 No special precautions.
Storage conditions:
 Store in a dry place at temperatures of (0-10)ºС and at relative humidity not exceeding 75%.
Transportation and temporary storage at temperatures from 10ºС up to 30ºС inclusive are permitted for 18 days.
Keep out of reach of children.
Shelf life:
 2 years after the date of manufacture.