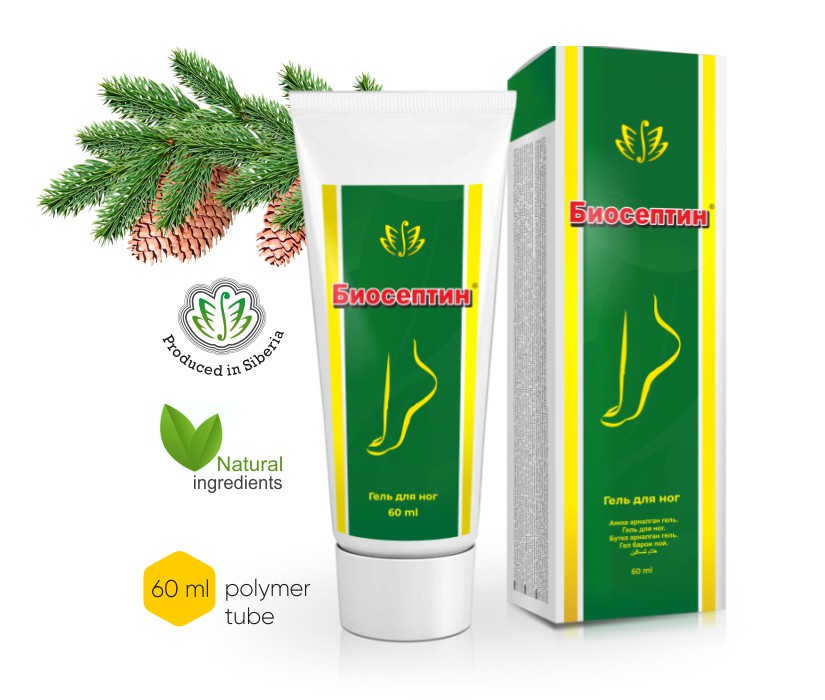 Dosage form:
 gel.
Presentation:
 60 ml in a polymeric tube.
Identification:
 jelly-like substance of light yellow to tan colour.
Composition:
 1 g of the gel contains aqua - 940 mcl, corn-steep extract fermented by bacteria
Bacillus amyloliquefaciens
strain VKPM B-10642 (DSM 24614) and strain VKPM B-10643 (DSM 24615) – 38.5 mg, agar - 20 mg, ethyl alcohol – 1 mcl, extract of Siberian fir – 0.5 mcl.
Indications and Application:
 For external use.
Bioseptin foot gel is applied for care and health improving of foot skin (dry and greasy, healthy and with skin disorders) and nails.
The gel is actively massaged into the skin. For best results, soak your feet into warm water before applying the gel.
For removing a bad odour, Bioseptin is applied 1-2 times a week.
For pilling and/or removing cracks on the heel it is necessary to apply Bioseptin liberally with massaging movements and intensively rub into your heels and soles until complete absorption.
Before applying the gel it is recommended to soak your feet into warm water for softening the cracked skin and then to scrub the hard dead skin with a pumice stone or special pedicure foot files. Such procedure makes the active agents of the gel effect faster and allows getting keratolytic effect.
Repeat the treatment at bedtime at least 1-2 times a week. To increase the gel efficiency a gentle foot massage is recommended. More frequent treatment procedures are permissible. They don't hurt healthy skin cells and give more effective results in removing dead skin cells. In the case of fungus diseases (onychomycosis) the treatment of foot should be made as often as possible. The infected area should be constantly covered with the gel until the fungus recedes completely.
Bioseptin usage allows:
- banishing and preventing unpleasant foot odour for a long time;
- removing dead and keratinized cells of skin;
- preventing and healing the cracked heels.
Special precautions:
 No special precautions.
Storage conditions:
 Store in a dry place at temperatures of (0-10)ºС and at relative humidity not exceeding 75%.
Transportation and temporary storage at temperatures from 10ºС up to 30ºС inclusive are permitted for 18 days.
Keep out of reach of children.
Shelf life:
 2 years after the date of manufacture.