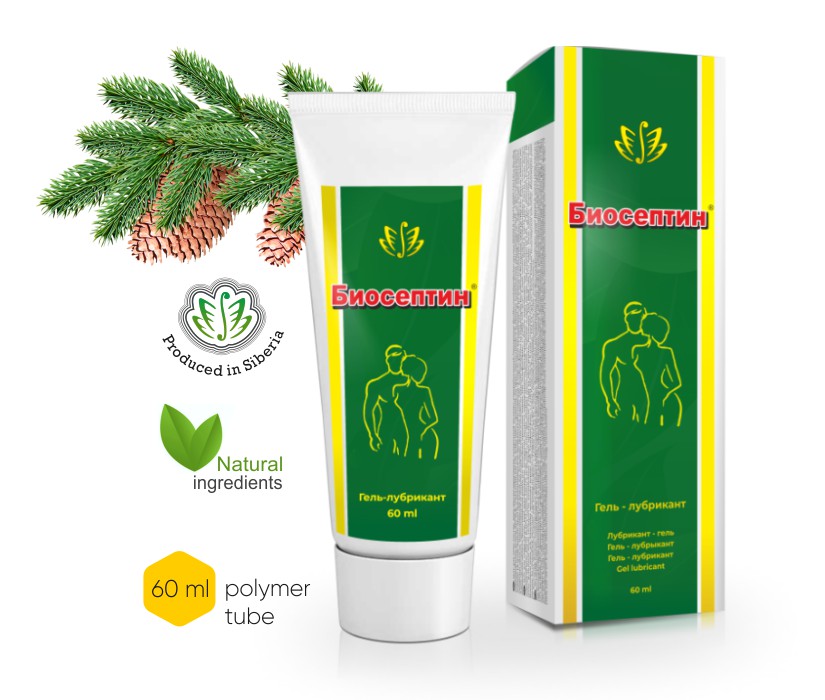 Dosage form:
 gel.
Presentation:
 60 ml in a polymeric tube.
Identification:
 jelly-like substance of light yellow to tan colour.
Composition:
 1 g of the gel contains aqua - 940 mcl, corn-steep extract fermented by bacteria
Bacillus amyloliquefaciens
strain VKPM B-10642 (DSM 24614) and strain VKPM B-10643 (DSM 24615) – 38.5 mg, agar - 20 mg, ethyl alcohol – 1 mcl, extract of Siberian fir – 0.5 mcl.
Indications and Application:
Bioseptin gel lubricant is used:
- to make sex safe and more comfortable;
- to avoid forming microfissures which infection gets into a body through;
- to protect the skin of private parts against irritation which is especially urgent for people who have to be under unsanitary conditions for a long time (on expedition trip, in the area of war events, in extraordinary situations, etc.);
- to remove and avoid inflammatory processes in internal and external genital organs;
- to remove and avoid an unpleasant odour in area of private parts.
A small amount of gel is applied on the surface of the genitals in a man and/or woman, or on a contraceptive.
To remove and avoid microfissures, inflammatory processes and unpleasant odour it is recommended to apply the gel at least 1-2 times a week.
Special precautions:
 No special precautions.
Storage conditions:
 Store in a dry place at temperatures of (0-10)ºС and at relative humidity not exceeding 75%.
Transportation and temporary storage at temperatures from 10ºС up to 30ºС inclusive are permitted for 18 days.
Keep out of reach of children.
Shelf life:
 2 years after the date of manufacture.