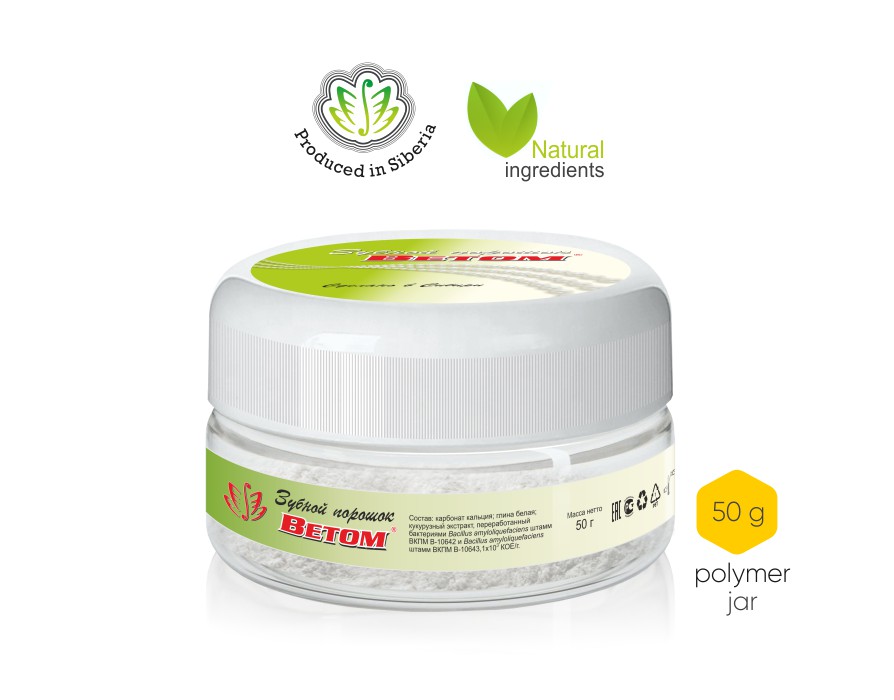 Dosage form:
 powder.
Presentation:
 50 g of powder in a jar.
Identification:
 white microcrystalline powder without grains; odourless.
Composition:
 calcium carbonate; bolus alba; corn-steep extract fermented by
Bacillus amyloliquefaciens
strains VKPM В-10642 and VKPM В-10643 - 1х10³ CFU/g.
Indications:
 Vetom strengthens gums, provides natural whitening and removes a bad breath.
Recommendations on application:
 Brush your teeth not less than 2 minutes.
Gently move the brush back and forth in short (tooth-wide) strokes, paying attention the gingival outline, hard-to-get molar teeth, and area around dental fillings, crowns and other kinds of dental prostheses.
Ensure the following organ's surface in the mouth cavity to be brushed thoroughly:
- the outer surfaces of the upper teeth and then the bottom teeth;
- the inside surfaces of the upper teeth and then the bottom teeth;
- the chewing surfaces of the teeth;
- the surface of the tongue to refresh breath.
Contraindications:
 Hypersensitivity to the components.
Storage Conditions:
 Store at the temperature of 0-30ºС and relative humidity not exceeding 75%.
Shelf Life:
 12 months from the date of manufacture. Do not use after the expiry date.