VETOMGIN 8.21
Effervescent tablets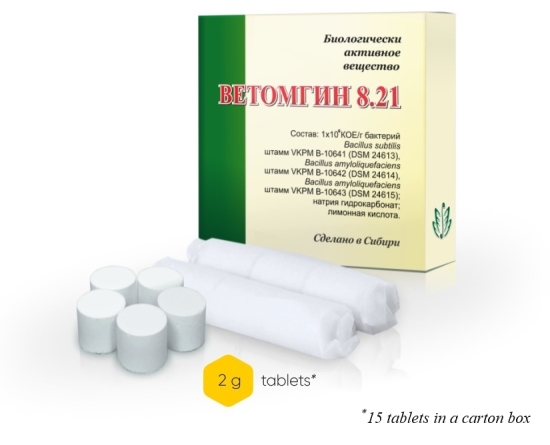 Dosage form: 
tablets.
Presentation: 
15 effervescent tablets of 2 g each are packed into a carton box; every 3 tablets packed into parchment paper.
Identification: 
tablet of white colour.
Composition: 
one dose (one effervescent tablet) contains: food additives Е500 – 1200 mg and Е330 – 750 mg; dried culture of probiotic microorganisms
Bacillus subtilis
strain VKPM В-10641 (DSM 24613),
Bacillus amyloliquefaciens
strain VKPM В-10642 (DSM 24614),
Bacillus amyloliquefaciens
strain VKPM В-10643 (DSM 24615) – not less than 1х10⁶ CFU/g – 50 mg.
Indications: 
It is recommended as an additional source of probiotic microorganisms to improve the quality of life.
Description: 
A health-improving effect is provided by the properties of Vetomgin 8.21 ingredients. Specific intestinal microbial composition is formed for every human being and the Krebs cycle is activated. As a result the following is observed: the functions of the systems protecting the body against foreign microorganisms including infectious agents and the functions of the regulatory systems are optimized; good oxygen supply to cells in the body is provided; energy supply is reserved; synthesis of such vital molecules as amino acids, carbohydrates, fatty acids, etc. is intensified.
Administration and Dosage: 
It is recommended to take 7 doses a day in the evenly spread intervals during the day within 10 days. One tablet is dissolved in 100-200 ml of water (a glass of water). The tablets should not be swallowed, chewed and dissolved in the mouth.
Contraindications: 
Individual intolerance to the preparation ingredients.
Special warnings and precautions: 
If you are pregnant or breast-feeding, consult your doctor before taking tablets. Vetomgin 8.21 does not affect on ability to drive or use hazardous tools or machines. Vetomgin 8.21 does not cause habituation.
Storage Conditions: 
Don't store above 30ºС and at relative humidity exceeding 75%. Keep out of the reach of children.
Shelf Life: 
4 years from the date of manufacture. Do not use after the expiry date.
Prescription: 
It is available without a prescription.